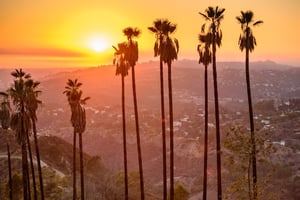 If you're looking for ways to broaden your investment portfolio, you should explore the possibility of purchasing a few pieces of California real estate. Investing in real estate, particularly a rental property, is often a good method for generating a steady passive income and also adds a large, tangible asset to your investment portfolio. There are a few good reasons to purchase a piece of property as an investment, including:


Renting the property generates a steady cash flow

Owning a commercial property provides an opportunity to set the stage to earn an ancillary real estate investment income

Tax write offs against the property

Additional tax deductions
There are 3 reasons why California real estate is a particularly good investment currently:
Market Experts Anticipate California Real Estate Quickly Appreciating
Real estate marketing experts believe that California real estate is on the edge of a serious value increase, and they don't think you'll have long to wait to see the value of your property appreciate. They predict the property values increasing sharply over the next three years, which is great news for anyone who is interested in either purchasing a run down piece of real estate, fixing it up, and quickly flipping it. It's also good news if you're main concern is using the investment property as a rental property.
Two areas where properties are expected to experience the greatest appreciation in a the very near future are San Diego and the Bay area.
High Demand for Multi-Family Dwellings
Chances are good that when you think about flipping a property, you think in terms of single family homes, however there are several parts of the country with a high demand for multi-family dwellings, including California. Based on current population growth predictions, California's housing market needs to come up with approximately 3.5 million more places for people to live by 2025. This makes a strong argument for purchasing commercial buildings and using them as a rental property for a few years. The property generates a nice stream of revenue and if you decide to sell a few years down the road, you should earn a nice return on your investment.
Great Tourism Market
Most real estate investors don't give much thought to tourism when they're looking for an investment property, but in California, you should, especially if you're looking at properties near LA. Each year an estimated 10 million tourists visit LA and most are looking for a place to stay while in the city. Many of the tourists have started looking at Airbnb for lodging rather than the more traditional hotel option, and the owners of California real estate are profiting. Westchester is an LA neighborhood where Airbnb rentals are a common occurrence. The owners of the properties that use Airbnb report that they average about $5,844 per month from the revenue stream. The average revenue stream in nearby Los Feliz is $3,743.


Trust Deed Capital wants to make your California real estate dreams come true. We specialize in providing the financing for flipping properties, commercial rental properties, and buy and hold properties. Contact us to learn more about our loan approval terms and fast response time.