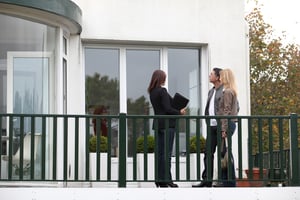 There are three main types of buyer. Savvy investors know how to appeal to each kind:


The first-time home buyer.

The primary homeowner who wants to sell and buy something else.

The homeowner who wants to buy a vacation property or an investment property.
First-Time Home Buyer
Buying your first home is a major step. It is exciting, time-consuming, worrying, etc. First-time home buyers need most help from the seller to give them comfort and to feel confident in their decisions.
The Owner Who Wants to Sell Their Current Home and Buy Another
This home buyer knows that unless they are "Ready, Willing, and Able" to close on their next home, a seller is less likely to accept an offer. This kind of home buyer needs help of a different sort.
The Vacation or Investment Property Buyer
This buyer is probably ready, willing, and able to write an offer, so they need help buying the "right" property to suit their specific needs.
The Two Approaches to Buying
Many homebuyers find a Realtor to do all the things they either cannot do because of time constraints or distance (if they want a vacation home for example) or are afraid to do so they avoid making "newbie" mistakes. Other buyers want to save the Broker commission, so they go directly to owners who are selling FSBO. Many FSBOs lack experience in selling, so many buyers avoid them. The savvy investor can capitalize on both these approaches. All buyers want to find:


The right home

In the right location

In the right condition

For the right price

That can close in the right time frame
Appeal to the Buyer by Appealing to Their Realtor
To appeal to this kind of buyer, build good relationships with the local Realtor community. Sellers can do this in different ways. The easiest is to:


Advertise the property in ways so Realtors want to show it to their buyers.

Have great photographs and make videos they show off the property and its location.

Emphasize the benefits of the home for each kind of buyer so they can link location, etc. to the asking price.

List repairs and upgrades to link condition to the price.

Offer a warranty at closing.

Emphasize you pay Broker fees, showings are easy to arrange, etc. If the Realtor wants to show the

property, they will persuade their buyer to view it.
Appeal Direct to the Buyer
In your advertising, yard leaflets, open houses, social media posts, and videos, etc. make it very clear that:


You are an experienced, positive seller who helps buyers. This appeals to first-time buyers as well as to those who are short on time.

You have other properties for sale. Or have sold many properties, so buyers can rely on you to act professionally.

You can buy the buyer's existing home if they will buy this one.

You can help the buyer arrange a bridging loan if they have not yet sold their existing one, or if they are buying this as a vacation property.
The Take-Away
Helping buyers matters. Every buyer has one or more critical pain-points you can appeal to. To learn how we can help you, please click here to contact us.