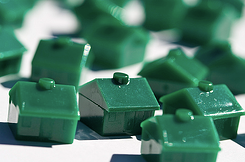 When you are looking to buy the most lucrative types of properties in the market -- smaller properties that need rehabilitation for resale -- you have probably found that traditional lenders cannot give you the money or the terms to make the deal work. Hard money lenders, on the other hand, love these deals and can get you in control of the property very quickly.
There are two types of properties that meet hard money lenders' criteria.
One-to-four unit residential properties -- houses, duplexes and three- and four-unit buildings -- in need of renovation and repair.
Small commercial properties -- frequently designed for occupancy by just one or two clients -- in need of repair, of a tenant, or both.
While these two classes of investments may appear to be very different, they share an important commonality. They both can be bought cheaply when they are vacant and in need of work and can both be resold for a significant profit after they are fixed up. This makes them excellent properties for you to invest in and safe risks for hard money lenders.
In exchange for making it possible for you to buy and profit from these types of properties, hard money lenders will ask for a few things in return:
A down payment of 40 percent or more. While this may seem onerous, many lenders calculate LTV on the basis of the repaired value of the property rather than on the, usually much lower, purchase price.
A reasonable origination fee to cover the cost of underwriting and originating your loan.
A borrower packet that includes information on you and on your strategy with the property. While they want to know that you are a good risk and that they are likely to be repaid, they might even be willing to overlook your FICO credit score if it does not truly reflect your strength and reliability.
An interest rate that is higher than what a bank would charge, but still low enough to allow you to make a great deal of profit on the investment.
If you are ready to invest in these lucrative types of properties, look into hard money loans. They are the gateway to profiting from one-to-four unit residential and small commercial property rehabilitation investments.