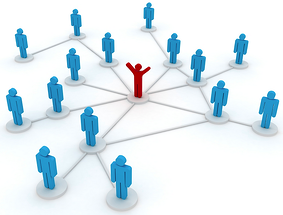 Making your investment dollars work for you and your future is a laudable goal, but too many times, investors are seduced by the idea that prudent investing and solid returns require little or no work and almost no risk. Nothing could be further from the truth.
The essence of superior and safer returns is building a good investing network. Working with experienced and knowledgeable people who you trust is the only way to find the right investment deals that not only meet your investment goals but also fit your risk tolerance.
Real Estate Investing Networks
Nowhere is the principle more applicable than in the arena of real estate investing. A good investing network can save you time, aggravation and, most importantly, money. Obviously, finding an excellent deal is of major importance so it is good idea to maintain a contact list of property managers, real estate agents and bank administrators who can let you know when a good deal develops.
Similarly, funding and consummating the deal as affordably as possible is also important. Loan officers familiar with your financial situation as well as supporting personnel like home inspectors and appraisers should also be in your contact list. Every part of the network helps the rest. When a superior deal is found, it is critically important to be able to move as quickly as possible, otherwise another investor will seize the opportunity.
Private Money Lenders
Finding all these resources in a piecemeal manner can be extremely time-consuming and often frustrating. Many times, the "resource" will not deliver as promised and much time and effort will be wasted. Private money lenders, on the other hand, are in the business of developing exactly this specific type of real estate investing network.
Seek to find reputable Private money lenders who are experts in the field of "hard" money loans. You will discover not only have they assessed the deals that they bring to the table but also the investors, the borrowers and the support personnel. In fact, all aspects of the investing network will have been meticulously scrutinized to make your due diligence that much easier.
Your Investing Network
In the end, the responsibility for managing your money falls on you. Nevertheless, a good investing network can make that task far easier. When considering a real estate investment, be sure to have your network in place. It will certainly pay off in the long run.