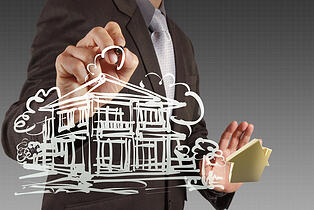 Some California investment properties pose unique challenges. While many inland properties have a rent-to-sales price ratio that is roughly comparable to the rest of the country, coastal ones do not. As such, it's very hard to positively cash flow on turnkey properties in these markets. However, California is filled with opportunities for real estate investors.
Coastal Market Properties
Much of the housing stock in the high-cost coastal areas is relatively old, having been built between 1920 and 1970. While these houses have unique charm that makes them almost irreplaceable, they're also old houses. This means that opportunities abound for you to purchase them at an affordable price, repair them and turn them around for a profitable resale.

Given the high prices that you can achieve for California investment properties as well as the surplus of construction labor in some areas of the state, it's relatively easy to create more value than you spend in fixing up the property. As such, your returns can be relatively high if you're able to source leverage for these properties. While traditional banks are still very slow to lend on single family residences, California's private mortgage and hard money lending community is active and aggressive. With the ability to borrow on post-improvement values, you can also achieve higher levels of leverage than you might expect.
Inland Properties
California investment properties in inland markets offer different opportunities, allowing you to choose between two different strategies.
Some markets have prices that have fallen to a point that you can purchase a turnkey or close-to-turnkey property and convert it into a rental with positive cash flow. This is especially possible thanks to the relatively low interest rates available from some private lenders for longer-term loans on properties that are being held for rental cash flow.
A significant stock of distressed and foreclosed properties remains in many of these markets. These properties can be purchased for relatively low prices, although some need significant work to make them ready for renters or purchasers. Once the properties are repaired, they can then be sold or rented profitably, giving you two potential exit strategies in the same investment. The private lenders that are active in California investment properties provide leverage that can increase the equity returns on these homes, as well.