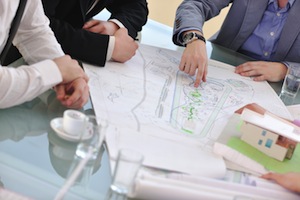 Are you considering adding real estate to your portfolio? Before you do, make sure you know exactly what you want to achieve: Are you looking for a short or long-term investment? How much risk are you willing to take? And, how much time and energy are you willing to use? With these ideas in mind, you can decide if you are going to "repair and resell" or "invest and rent." Let's take a look at these two wealth building methods.
Fix and Flip
There are a couple important details to keep in mind if you wish to profit remodeling houses.
This may sound a little simple, but it is worth asking – Are you capable of "fixing" the property? Part of your profits depends on your ability to estimate repair costs and complete them within budget. This budget won't have to be as high if you are capable of doing work yourself, or have a reliable network of tradesmen. Investors with a history in construction have a significant "edge" using this method. Are you able to compete with professionals who have twenty plus years' experience in the industry? These guys are able to get material and labor at discounted prices. Plus, they understand all building codes and have friends in the inspections department. Remember at the end of the day, you will be competing with them because they will be reselling similar homes in the same area.

Do you believe property values will increase in the short-term? Half of the profits from the "fix and flip" method come from the ability to speculate. Here are some items to consider:
How well do you know the market?

Do you have any inside knowledge on new developments like schools or businesses?
One last item to consider is how much risk can you handle? It is important to understand these questions:
How long can you afford to hold your investment? Not every "fix and flip" is a winner.

Are you in a financial position to take a loss?

Can you keep making loan payments if nobody buys the house?
If "fix and flip" don't sound like a fit, you may wish to try investing in rental properties.
Buy and Hold
This method is a long-term investment. Since you will be turning these properties into rentals, you can handle long periods of low property values. With "buy and hold" you are investing for renters as opposed to buyers. This means you should invest in a market with many people coming and going, like college towns.
Renters are looking for the most "bang for their buck." They are more interested in the number of bedrooms than the floor tile. Some houses will make good rentals, others are best for reselling. Investing in real estate is a business. You need to understand how you are going to beat your competition in order to profit. Simply put, offer more for less – either by selling beautiful homes or renting them at a competitive price. If you are interested in getting started in either strategy, please contact us for financing. Trust Deed Capital specializes in hard money lending for residential "fix and flip" and "buy and hold."