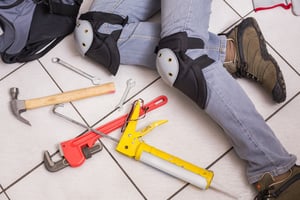 Many investors like finding hoarder houses. It looks like a great opportunity. Properties that are in bad condition are often available at a low price and resold for a good profit. However, renovating a hoarder house usually involves more than just hauling out a lot of junk. Before you sign on the dotted line, consider several pros and cons and try to determine if the venture will provide a good enough return on investment.
Facts about Hoarding
Hoarders are afflicted with a high anxiety about throwing things away, so their homes contain piles of items that most people would consider garbage. Sometimes refuse is stacked to the ceiling or there is very little space to move about through the home.
About 2 to 6 percent of people in the U.S. are compulsive hoarders, which means millions of people suffer from the syndrome. It's often associated with mental health issues like obsessive-compulsive disorder, bipolar disorder and depression and it also tends to run in families. Hoarding behavior often starts in childhood and gets more severe with age.
Is it worth the time and expense?
Hoarder houses often have been abused for many years. Hoarders tend to "collect" items such as newspapers, magazines, empty cans and cardboard boxes. Because of the years of neglect, there are often other problems to deal with, including mold, pest infestations, structural damage and other problems. It's not possible to know the true extent of the damage until the clutter is removed.
Beware of hoarder houses that have an extremely low price tag, because a severe problem could be hidden by the piles of trash. Hoarder homes may require repairs due to termites or water damage. There might also be electrical wiring and plumbing problems that are impossible to assess until the property has been cleared out.
If the hoarder is still residing at the house when it's being offered for sale, it can pose a very difficult problem. In many cases, hoarders will not comply with any attempts to clear out the house. In this situation, the only recourse might be to wait until the occupants move out, which can make it impossible to resell the home within an acceptable time frame.
The cleanup could be more than you bargained for, and it can take a long time. After the home is cleared out, be prepared to see extensive damage. There is bound to be mold, damage caused by animals and pests, peeling paint and structural damage due to neglect.
Once you have a realistic estimate of the potential cleaning, repair and renovation costs, you can determine if your reselling price will provide a profit. Also, consider the total time for the project and decide if the projected profit is enough for the amount of time it will take. Even though there are many potential pitfalls, don't dismiss the opportunity of investing in hoarder houses. With thorough assessments and planning, they can be profitable ventures.
If you would like to learn more about this topic or discover some new real estate financing opportunities, don't hesitate to contact us.