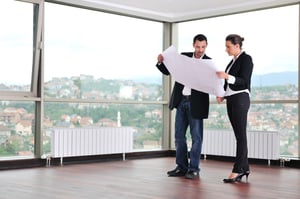 Sara Malek Barney, an interior designer, suggests on the website, FitSmallBusiness that the best return for your investment when flipping a house is to stick with Paint, Hardware, and Lighting. This fits in with the general philosophy behind buying houses for resale. Remember: you are not going to live there.


While renovations for a house that you are living in include a consideration of return on investment, a return on investment must be over 100 percent if you are buying the house to sell. Part of the art of flipping is to buy the right house, and if you have a small renovation budget then that house needs to be livable to begin with. Major structural repair is expensive and time consuming, involving highly skilled labor and dependable connections to the real estate market, so a larger renovation budget has to be built into your figures.

If you are working with the right house, then bring the property to the top of the neighborhood standards for the exterior paint, with special attention to the front door. But be careful not to go too far. Chris Dowler, a Construction Company owner, reminds one not to fall in love with the property. You are not going to live there and renovating a property above its location is just asking for a loss of investment value.

Also remember that what to you is a "personal touch" can be an annoyance to someone who wants to make the house their home. A hand-carved front door automatically excludes a large mail slot that might be convenient for their home-based hobbies.
Efficiency, Safety and Comfort should be the focal points.
Once you have the buyer inside the door, then grab attention with upgraded lighting. The realtor can point out sufficient outlets for technology, combined with new fixtures in the kitchen and bathrooms to ensure a quick sale. Quaint fixtures that are in working order are not going to appeal to young people that will be looking at this house. They will want efficiency, safety, and comfort after a long hard day at work.
If you don't overspend, you can price it right.
Doug Keller, a marketing manager, suggests that the house be placed just under market value to attract multiple bidders and a quick sale. A house that is well-primed for its neighborhood should perform well in this circumstance.
Contact us for more suggestions on renovating houses for sale or financing for your project.