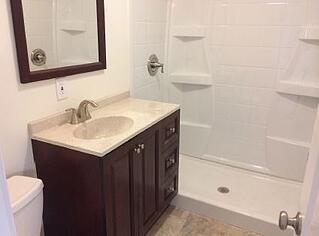 Remodeling a property to fix and flip is a challenge on many levels. Perhaps the most challenging aspect, however, is determining what improvements to make to maximize the return on your investment. While you may think that the more you spend, the more you'll get out if it, this is not always the case. In fact, the average home improvement only carries a return of around 65 percent. That said, there are three improvements that usually cost a lot, but add little value when it comes time to sell.
Bathroom Additions
Anyone who lives in a household with multiple people and only one bathroom would disagree with this, but adding a bathroom is the lowest returning improvement you can make. On average, the cost of such an addition runs somewhere around $25,000.00 for an average size bathroom. However, the price can soar upwards of $75,000 for a high-end spa style bathroom addition. Although a beautiful bathroom is aesthetically pleasing, bathroom additions only offer a return of around 57 percent. Therefore, you'll be better off simply remodeling the existing bathroom and investing your capital into other, higher return improvements.
Master Suite Additions
The concept of a master suite, which includes a bathroom, might appeal to some, but it's actually not a sound investment. The reason is quite simple. On average, the cost of adding a new master suite ranges somewhere between $200 and $250 a square foot for a luxurious space. While it'll get plenty of compliments from prospective buyers, it's not going to increase the value of the home by much. In fact, you'll likely only see a return of 56 percent, or so. Rather than going for an addition, spend your time and money improving the current spaces, which will cost you less, and give you a higher return rate.
High-End Decking
Outdoor spaces are a selling point for some buyers. They can easily picture themselves sitting on the deck in the back yard, watching the kids play and entertaining friends and family. In order to grab the attention of buyers that are environmentally concerned, you may be tempted to invest in composite deck materials rather than standard lumber materials. While this is certainly an environmentally friendly option, it's hardly worth the investment. As with a master suite addition, you'll only see a return of around 56 percent on a deck addition, so don't go overboard with specialty materials.
As a fix and flip investor, the size of your profit margins depends heavily upon the investments that you make in each property. If you'd like to learn more about the types of improvements that you should avoid, and those you should undertake, contact us. We are a hard money lender, and we've helped many investors, just like you, realize their goals of reaping a high rate of return on their property flips.