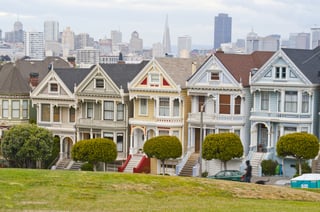 Real estate investors are asking themselves, "What does the 2016 California housing market look like?" The informed and educated investor knows there are opportunities no matter the market conditions. Armed with the correct knowledge, one can develop a successful strategy.
Important issues affecting the market are a global economic slowdown and strengthening of the dollar, stock market volatility and slow economic growth, and uncertainty caused by the Federal Reserve. There are questions about whether the Fed will continue to raise interest rates. If they move too fast, they could halt economic growth. If move go too slowly, they will have zero leverage if there is a down turn.
According to the California Association of Realtors, homes sales within the state have regained momentum. Since April 2014, the 6-month moving average of sales for existing single-family homes has steadily increased, month after month. At the same time, home price appreciations have moderated since mid-2013. Overall, the median prices in California have grown faster than the rest of the United States.
The California housing market, by the end of 2015, has recovered. The new normal will include low-interest rates, and positive job and income growth. However, supply has been below long-run averages, and the share of first-time buyers is low. The market is good, but not great by any stretch of the imagination.
Factors affecting the current CA housing inventory:
Affordability for repeat buyers
Limited number of foreclosures
Investors renting instead of flipping
Limited new construction
Fewer trade-up buyers
We are looking at a housing affordability crisis in the near future. California housing prices are more volatile than the rest of the nation. Affordability peaked in the First Quarter 2012, and has seen a drastic decline since. Even broken into smaller markets, most counties in California are less affordable than the national average.
The California Association of Realtors has a mixed forecast for the 2016 market. Predicted is an increase of resales by 6.3%, and the median price will grow from $476,300 to $491,300. There is an expectation that housing affordability will drop to 27%, while mortgage interest rates may increase to an average of 4.5%.
Issues that CA real estate investors must keep a close eye on:
Stock market volatility
Slow growth in China
Energy prices
El Nino/Water Shortage
The 2016 Presidential election
Opportunities should exist with Millennials: renters becoming first-time buyers, and first-time buyers who used the tax credit in 2009 buying up. Also, look to Baby Boomers ready to downsize. A surge in minority households will also play a big role in demand over the next 10 years. Home prices are leveling off. Now could be a good time for investors to sell properties purchased a few years ago.
Please don't hesitate to contact us for solutions to your all real estate investment financing needs.