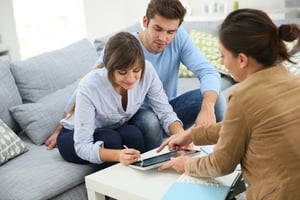 Technology is changing the way virtually every business works in the 21st century and real estate is no exception. Today, technology is assisting people working in real estate more than ever before. Technology has simplified many jobs and helps people keep up with the breakneck market place in the real estate world today.
The following are 4 technological trends that are taking the real estate world by a storm in 2019:


Online Listings Are Growing: Online listings are allowing real estate agents to reach out to more people than ever before. These listings come with everything a buyer would want to know from the year the home was built to the pricing information. Many also show floor plans and details of the area and neighborhood where the home is located. Reaching more people about listings and providing quality information helps properties sell faster than they would just by a "For Sale" sign stuck in the yard or through word of mouth.

Mobile Apps: Virtually every site as a mobile app now that allows real estate agents to view properties from wherever they may be at while they are working. This includes being able to review properties they are working with on their tablet or smartphone while on the go. Other apps help with your budget and finances for each property as well, so you are sure that your spending is always on track.

3D/Virtual Tours: Many sites today have 3D or Virtual Tour options which allow real estate agents to show potential buyers what the home looks like before they even show up for a viewing of the property. This helps real estate agents save time by only show clients who are genuinely interested in the property the actual property itself. It also gives clients a great resource or tool to use to determine which homes they are genuinely interested in going to see in person.

Assists in Communication with Clients: Technologies today go further than ever before to help real estate agents communicate with potential buyers. From traditional telephone calls or emails, there are options today that include face timing and texting as well as other methods of communication such as sending pictures that were not as popular in the past eras of real estate. Being able to communicate more easily allows real estate agents to keep in touch with their clients while it takes just a fraction of the time it would have taken in the past.
These are just 4 of the ways that improved technology is changing the way real estate works in the 21st century. These are the types of technological innovations that are saving people who work in real estate time as they can do business from their mobile devices and can work from basically anywhere as technology continues to advance. These technologies also allow customers to find the homes that they are interested in more quickly and do a virtual tour before they view the property. This saves both the agent and client time by only showing properties to those who are seriously interested.
For more information about what technologies are changing the real estate market or for your real estate financing needs, please feel free to contact us.