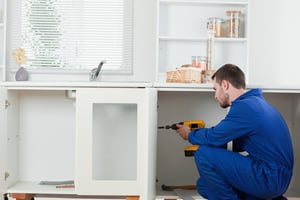 If you want to increase the value of your property, but you don't want to make a big investment, there are many inexpensive tricks that you can use to increase your return on investment. Here are 8 things that you should consider doing before selling or renting your property.
1. Paint select rooms
Painting every unit in a home or building is not cheap, but sometimes you only need to focus on a few select rooms that really need it. Some accent colors could also create a first impression with a little more pizzazz. This can make a dramatic difference to potential buyers or renters and it shouldn't cost more than $500.
2. Upgrade hardware
Some new modern door knobs and cabinet hardware give a finishing touch that brings the whole décor scheme together. This upgrade provides one of the best returns on investment you can get from an inexpensive improvement.
3. Simple kitchen upgrades
The kitchen is a very important feature that conveys the value of a property. Sometimes all it takes is a resurfacing job or faux wood finish to give a much more upscale appearance. Some other kitchen upgrades you could consider are a backsplash on the wall behind the sink or a new stainless steel refrigerator. Stainless steel appliances add a lot of perceived value and some of them are inexpensive.
4. Repair the roof
If there are any leaks in the roof, a quick patch job should only cost a few hundred dollars, and it will maintain your property's value. A leak that's left unattended can lead to more water damage to the property, so prompt attention will save you a lot of money.
5. Improve lighting
More light makes the space appear larger, which equates to higher perceived value. You could increase the wattage of the light bulbs and change fixtures that distribute light more effectively. Some other ways to increase lighting are to clean windows and remove old curtains.
6. Smart home upgrades
Sometimes it's little things that make a big impression. High tech features that buyers wouldn't normally find in other homes could convey a sense of much higher property value. Technology such as USB charge ports on electrical outlets, smart thermostats and smart locks can be less than $500 to install and they make your property stand out.
7. Install a bar
A full-service bar is not a common feature in most homes, but it can be installed for a low price. Adding this feature could give your property a sense of extra luxury and create a memorable impression.
8. Improve the garage
This is a part of many properties that often goes overlooked. If you spend a little time and a few dollars to finish the flooring and walls in the garage, your property might stand out against the competition.


For more information about this topic, or if you want to learn about obtaining a private money loan on your investment property, contact us.