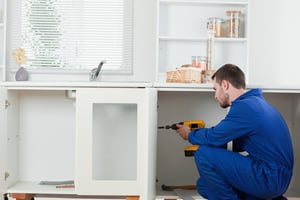 Your rental property is an important investment--and like any investment, you need to pay close attention to it in order to keep things moving smoothly. If you have a rental property, make sure you're taking care of the basic maintenance necessary to leave your property in great shape. Not only will this help attract better tenants, it will increase the odds that the tenants in the property will take better care of it.
Item #1: Annual HVAC Checkups
Not only will annual HVAC checkups keep your unit running smoother, decreasing bills if you're the one paying for electricity on your rental unit, having regular maintenance performed on the HVAC unit can substantially lower your repair bills in the long run. Not only that, HVAC maintenance will spot potential problems, which means that you can fix them before your tenant calls you at 4:00 on the hottest day of the year to let you know that your unit has stopped working.
Item #2: Repairing or Replacing Siding
The outside is one of the most important parts of the property when you're showing your rental property to new tenants. Make sure it looks its best by repairing or replacing siding every year. This simple step can also help prevent damage to the materials under the siding, including leaks that could sneak into the house.
Item #3: Inspecting the Roof
Your roof is one of the biggest investments on your property. Keep it sturdy and strong by making an annual check to determine how it's holding up. Are there any missing shingles or holes that should be taken care of? Try to get to these basic maintenance tasks before winter sets in.
Item #4: Checking the Foundation
Check your home's foundation and make sure it hasn't acquired any cracks. Repair small cracks as soon as possible to be sure that your rental property won't have bigger problems down the road.
Item #5: Making Sure Leaves are Removed from Gutters
Make sure it's clear whether it is your responsibility or the tenant's to take care of clogged gutters and other outdoor maintenance. Cleaning out the gutters can help prevent a number of problems down the road--and you want to make sure it's done well!
Basic maintenance can help keep your rental properties looking their best and prepared for whatever comes next.

Need help making that first investment in your rental property? Contact us to learn how we can help. We can also be a great source for all your financing requirements.