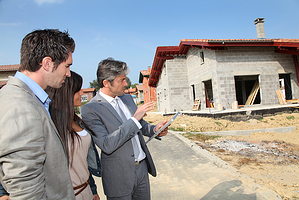 There's more to effectively doing real estate deals than just having hard money lenders in your pocket. To get the most out of your real estate activities, there are three key tools that can help you to make better investments and better decisions.
Hard Money Borrower Tool #1: MagicPlan
Available for iOS devices like iPads and iPhones as well as for selected Android devices, MagicPlan lets you quickly and easily measure houses, rooms and other interior areas. It uses onscreen guides to help you take pictures of the room's corners with your device's camera so that it can calculate the room's dimensions.
If you've been around real estate investing for a while, you know that room measurements that come with property listings aren't always accurate. Having your own measurements lets you calculate a more accurate price per square foot. It also helps you estimate costs with greater accuracy if you are planning to do any rehabilitation on properties that you buy. Given its low cost and the time it can save relative to traditional measuring methods, it's an invaluable tool, especially for anyone working with a hard money lender.
Hard Money Borrower Tool #2: Financial Modeling
Hard money lenders know exactly what they will get back when they make a loan to you. With financial modeling, you can get a sense of exactly how much of a return you will receive. Financial models -- which you can build with Excel or another spreadsheet program or with specialized real estate investment software -- take all of your inputs and outputs into account. They don't only look at what you buy a property for, what you spend to fix it and what you get for selling it. Instead, they account for your incremental expenses and for the impact of your debt. With a model, you can quickly look at deals and determine if they meet your return goals.
Hard Money Borrower Tool #3: Construction Cost Estimate Databases
Frequently, contractors don't do all of the detailed math and calculations to calculate a construction bid. Instead, they just look the work up in a database of estimated costs and use that to figure out what to charge you. You can subscribe to those databases yourself, as well. Doing this doesn't only help you keep your contractor honest. It also gives you the information you need to quickly determine if a fixer-upper is a good deal or one to leave for a less savvy investor, or house flipper.