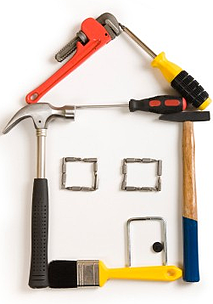 One of the best ways to take advantage of the recovering California real estate market is to invest in rehab properties. You can still buy these properties cheaply, do some work to put them into turnkey condition, then profit from selling them to a different class of buyer. Furthermore, thanks to the ready availability of private money lenders, you can do your rehabs with borrowed money, making your potential returns even higher.
Finding Rehab Properties
There are many different ways to find properties in need of rehabilitation:
Look for foreclosed properties. Many homeowners that go through foreclosure fail to properly maintain their homes and, at times, even vandalize them. These facts tend to make foreclosures excellent opportunities for rehab investors.
Focus on properties with long-term owners. These properties tend to be fundamentally sound but frequently need cosmetic updating and improvement. Since California is a disclosure state, it is easy to see which properties have gone for a long time without changing hands. Another thing to look for is properties that are not only long-term held, but also properties that have no debt, making it more likely that the homeowner has not done a major rehabilitation project.
Drive down the street. If you tend to focus on a certain neighborhood or area for your rehab investing, you will find your best leads by simply driving your area and looking for properties that need rehabilitation. You can then research the ownership and contact them with an offer.
Fixing Rehab Properties
Take advantage of the private mortgage market. Many private lenders not only move quickly but will also make loans on the basis of your property's post-rehab value. This increases your effective loan-to-value-ratio.
Be your own contractor. The more that you can control your labor costs, the higher your ultimate profit will be.
Make neutral improvements. Bear in mind that you are fixing your rehab properties to sell or to rent out, rather than to live in. As such, doing work that will appeal to as many people as possible will ultimately increase its value.
Buy in bulk. If you will be rehabilitating a number of different properties, work with your suppliers to buy major components like toilets, cabinets, front doors, or kitchen appliances in bulk. Negotiating a quantity discount will reduce your overall cost.
While you can make money in real estate by simply buying good properties and holding them long term, the key to making meaningful profit is to create new equity. Rehab properties are an excellent way to do a little bit of work and create a lot of equity.