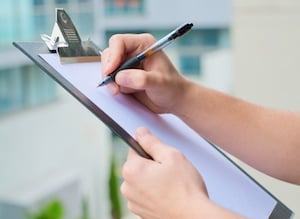 While a lot of people prefer to fix and flip the homes they buy and rehab, there are several pros to the buy and hold option. Of course, in order to successfully do this, you have to constantly have renters in your home. So, we've made this list of four buy and hold rehab tips to appeal to renters to help you have success on your buy and hold project.
Focus on Curb Appeal
You want your potential renters hooked from the moment they see your property. So, make sure the lawn is cared for, paint the front door, and replace the garage door if it looks old and worn. You should spend a small amount of extra cash adding some plants and door mats so that your renters feel like they're coming home and not just viewing another property.
Know Your Renters
Canvass the area and talk to realtors about the successful rental properties in the area. Who is renting them, families with small children or older couples with kids in college? This will help you decide what details to add to your rental house and which ones to skip. Small details go a long way, but you need to choose the right ones to focus on. If your home is in an area with lots of families, parks, and good schools then you should focus on a nice fenced in yard for the kids to play in, or convert a space into a play area for the kids. You should make sure you devote square footage to bedrooms and bathrooms so that a family of four can fit comfortably in the house.
Include Extra Features That Appeal to Almost Everyone
If your budget allows for it, get ahead of your competition by adding some extra features that can make all the difference. Things like walk-in closets and in-unit laundry will make your rental stand out from other houses that don't include those features.
Find a Unique Way to Draw Renters in
There are several rental options, especially in big cities, for people looking to rent a new home or apartment. You have to stand out, and you can't do that by simply listing that your home has large square footage or a backyard. While those things are often crucial to a lot of renters, you still have to go a step beyond that. You need to help them imagine what life in your rental home will look like. In your rental listing mention the details about your house that will help someone picture a life there, that will evoke emotional responses. Maybe your rental property is on a nice street where their kids can ride bikes, or perhaps you're only walking distance from a really great restaurant. Are you near a spectacular shopping mall or a relaxing spa, does your house have a great view of the sunset or a beautiful park? Make sure your ad includes details like that to really draw potential renters to your property.
Like we mentioned before, the buying and holding route to rehabbing a home has its benefits, but only if you can find, and keep, renters in your home. These tips should help you do just that. So, use this guideline on your next buy and hold project, and if you need help with financing, please contact us. We look forward to helping you have success in your future projects.