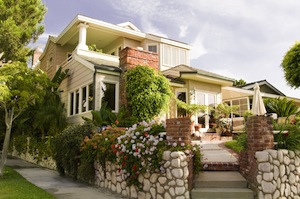 The concept of fixing and flipping homes has grown steadily over the last decade, though with the increased interest, competition is now fierce. As such, marketing is more important than ever to stand out from other property flippers trying to sell their homes in the same neighborhood.
Making a fast profit is what flipping is all about. To find the best buyers, you'll have to go beyond the ordinary, as well as do some targeting.
Here's four ways to bring more effectiveness to your marketing.
1. Keeping it Local
Remember, since you're competing with others locally, you need to market locally. By marketing to your neighborhood, you'll be able to compete on the same playing field as others. This works simply by placing a "For Sale" sign outside your home.
Don't stop there, though, and consider placing ads in multiple listing services. Also, don't forget about the visual marketing aspects of flyers. Placing these on doors in nearby communities get people interested immediately. Try incorporating catchy keywords and visuals of your home's interior.
2. Using Social Media to Expand Your Buyer Base
You can basically connect with the entire world in real-time on social media, so don't hesitate to promote your flipped house there. Find where your intended buying demographic hangs out and post content you know buyers want to see.
Using hashtags is important, including being specific if your flipped house has something unique.
Paid listings in online advertising also helps, something you can do through a service like Facebook Ads.
3. Creating a Website
It doesn't hurt to create a website for all your house flips. Doing so provides a source where interested candidates can get more details about the work you've done. To make the most profit, use free website options, which are now numerous. Even a WordPress site can work in providing appealing graphics, photos, and information about the house.
The more visuals you post, the better. Just make sure these photos format correctly on mobile device screens. Many buyers are on the go and may find your house listing on their smartphones or tablets.
4. Virtual Tours
Virtual reality is becoming more ubiquitous in the real estate industry. Home buyers want a more personal feel to touring a home if they don't have time to visit in person.
Creating a VR tour might take a little work, but it can attract stronger interest. With VR becoming more prevalent in all industries overall, you'll show you're right up with the latest tech trends.
Remember, it's not complicated to make a video walk-through of the house using even a smartphone camera. Just make sure the video quality is good enough to showcase every house repair you've made.
Contact us at Trust Deed Capital to learn more about house flipping and careful approaches to doing it right.