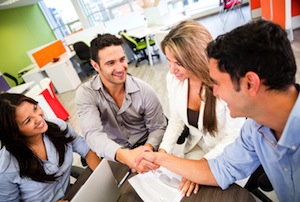 Many might suspect that hard money lenders may be difficult financing sources; that they have rather strict terms and can be quite complicated to do business with. What is the truth? The truth is that many experienced and reliable hard money lenders are actually very easy to transact with. How do you get a good deal out of them? Here are some simple tips.
Do your Homework
Before you even decide to enter into such a loan, knowing how it works will help you in devising an effective plan of attack. Hard money loans are basically loans that require borrowers to leave tangible property (usually real estate) as a form of collateral. These loans different from other types of loans in that the value of the property is the one that determines the viability of the loan and not necessarily the borrower's current credit standing.
Another point worth mentioning about hard money loans is that, unlike regular credit loans provided by banking institutions, the funds are taken directly from the pockets of the lenders themselves. As such, in order to protect their investments, lenders impose much stricter terms, such as tighter payment deadlines for the forfeiture of property placed as collateral. Since they are not governed by banking laws, lenders can also change their policies to suit their needs, which could throw you off guard if unprepared.
Negotiating the loan
One of the biggest advantages of going to hard loan lenders is that you don't have to go through lengthy bureaucratic procedures just to apply for the loan. Since these lenders are often just small businesses, you can easily schedule a meeting to discuss your loan.
However, even with this opening, it would be unwise to immediately seek a meeting with a hard money lender. Here, it would be better to know as much as you can about them first (Do your Homework!). Luckily, since these are often small scale operations, gathering needed information from others who have already transacted with them is fairly easy. Some lenders are also kind enough to publish their starting terms on their websites. Keep in mind, though, that published starting terms are usually just that and the actual terms of your loan will be based on many extenuating factors.
Once the conversation is underway, it is important to show that you are indeed going to be a viable lending prospect. While it is unnecessary, presenting a credit report showing a good standing can sometimes swing negotiations to your favor. Be prepared though, as they will likely ask you why you chose to go to them if you have a good credit standing in the first place. Emphasizing the positive points of the property you are giving as collateral, such as its potential resale value, will also make your case even stronger in the eyes of the lender.
A few more pointers
Since hard money loans often have a much higher interest rate than regular bank loans, repaying it as quickly as possible is certainly a must. As such, be sure to diligently meet agreed upon payment deadlines, as well as report to the lender on a regular basis, so they know that you are indeed keeping up with everything. Having a good transaction record can also help you negotiate payment extensions in case it can't be completed on time, as long as you provide a valid reason.
If you are seeking reliable hard money lenders to deal with, please contact us today.