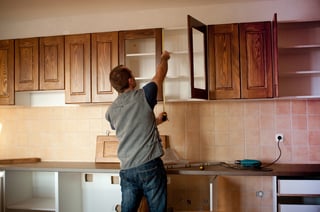 I asked SoCal Real Estate Group members for their opinion of the top 6 ways to add value to their fix and flip properties. The group is made up of local Southern California real estate investors that primarily focus on purchasing and repairing properties that have been neglected. Here is what they came up with:
1. Moving/Opening Walls
If the property calls for it, opening up a wall in order to improve the existing layout of a property is a great way to add value. It was common for properties constructed in the 1970's to have small, cramped kitchens. Removing a wall to open up the kitchen to the living room will give your property the modern upgrade that most of today's buyers are looking for in a home.
2. Updated Kitchen
Today's buyers want an updated kitchen with a modern backsplash. Most properties we are currently lending on tend to be installing white kitchens with dark granite/quartz counter tops. I would suggest looking at homes that recently sold quickly near your investment property to see if you can identify a trend or preference of buyers in your neighborhood. Brandon D'Angelo, organizer of the SoCal Real Estate Group says, "Buyers want clean and new. The high end fixtures are overkill except for in luxury homes."
3. Flooring
Buyer's want their homes to feel like new and installing new flooring is a cost effective way to update a home. Most of the homes we are currently lending on are opting to remove all carpet and install hard flooring throughout the entire home. Identify what seems to be the preferential flooring of the buyers in your investment property's neighborhood to ensure the greatest return on your flooring investment.
4. Updated Bathrooms
Nothing says outdated like ugly light fixtures and carpet in the bathrooms. Most buyers will prefer a tile floor, granite countertops, and modern light fixtures with brighter LED bulbs.
5. Windows
Clean and clear windows are an excellent way to make a property feel like new. If windows cannot be opened, a replacement window can be purchased and secured in an existing window frame with fasteners that run through the window assembly. If the windows are operable and the cost of replacing windows is out of the budget, use Ammonia Free Sprayway Glass Cleaner to clean your windows. For under $3 at target for a 19 ounce can, this is the most cost effective way to make your windows feel like new. I use coffee filters instead of paper towels to wipe down my windows.
6. Paint
A fresh paint job can transform the look of a home in less time for less cash than most of the aforementioned upgrades. If properly applied, good quality exterior paint should last for 15 years. Interior paint colors should remain neutral and appeal to the majority of buyers.
These are the upgrades the SoCal Real Estate Group found to add the most value to their fix and flip projects. If this list is missing any upgrades or you would like to add additional tips that have worked on your projects in the past, feel free to leave a comment below. If you invest in Southern California real estate and are interested in joining the SoCal Real Estate Group, please message me at mattmeyer@trustdeedcapital.com. This group is free to join and currently meetings are held on the last Tuesday of each month at Trust Deed Capital, Inc.'s office in Mission Viejo, CA. A special thanks to Debbie Oestmann and Brandon D'Angelo for their contributions to this blog post.