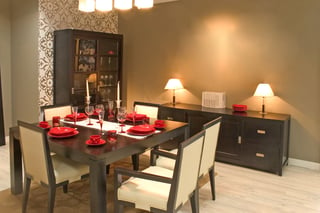 The kitchen is the heart of the home for many families. Families gather there nightly for meals, it is often the center of many house parties, and may also serve as a place for children of all ages to do homework. As you flip your property focus on these three ways to add the most value to your kitchen. They are appealing to potential buyers with a keen eye and friendly to your bottom line.
Create an Inviting Space
Invite potential buyers into the kitchen with a sense of warmth and belonging. Add value to the kitchen with these quick items. These also serve as a good guideline for your buyer to envision their personal style in the space.
Update the countertops without breaking the budget for the flip.
Update the flooring, avoid carpeting. Carpets in a kitchen are a potential cleaning disaster.
Create a floor plan that allows for a table while still feeling spacious.
Make sure the wall coverings are updated.
Use surfaces that are easy to clean.
Appliances Add Value and Appeal
When a potential buyer visits your newly flipped property, they are looking for certain elements. In the kitchen one of the main elements they consider are the age and condition of the appliances.
Update appliances to something that is cost efficient and Energy Star rated.
If you want a sleek look in the home, consider going with stainless steel.
A stove with a built-in microwave is a great way to save space.
Don't forget the dishwasher. Washing dishes by hand is a potential turnoff because it takes up time and extra water.
Consider a sink that in deep enough to serve multiple purposes.
Storage is A Must
Storage is essential in all areas of the house, but especially in the kitchen. You want to make sure potential buyers see plenty of storage for kitchen gadgets, table settings, and food.
Consider adding shelving to a closet in the kitchen to create a pantry.
Make sure all cabinets are updated with modern hardware.
Check the drawers and replace any that are damaged.
Hang a pot rack for extra storage.
Add an inexpensive island for more storage and prep space in the room.
Flip your home with a focus on these three areas in the kitchen to gain the most value and interest in the property. Appeal to potential buyers of all ages while balancing upgrades with value. For more information on the kitchen aspect of your flip, contact us today.