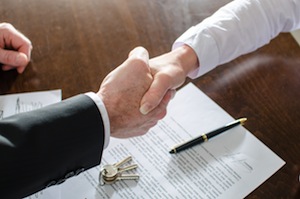 You hear a lot about fixing and flipping. There are several TV shows dedicated to it and plenty of articles to read up on, however, you don't hear as much about fixing and holding. It's a very viable option if you'd rather get a steady income instead of a big payout all at once. If you've decided to fix and hold, or you're leaning towards that route, one of the first things you need to do is find a company that runs background checks on your potential tenants. One thing is certain, you don't want to take any chances on the people you let live in your home. It's vital that you know who they are and what they've done in the past. You're looking for someone with a great history of taking care of their living spaces, and not causing any trouble.
SmartScreen
SmartScreen is extremely easy to use. You can create an account without jumping through hoops, and there's no sign-up fee. Simply input some information about your rental property and viola, you're all done. You can begin screening automatically. SmartScreen allows your potential tenants to input their information into TransUnion's secure website, and then you can request their report by giving SmartScreen their email address. TransUnion will verify the identity of your potential tenant before sending the information to SmartScreen, guaranteeing that you don't get fraudulent information. Then SmartScreen will provide you with a full credit report and the results of a criminal background check along with their recommendation for your approval/decline based on the information you supplied about the property you're renting out. It's a very thorough process and provides a lot of useful information so you can pick the best candidate.
Zumper
You'll find that Zumper is a very fast and efficient screening tool that is easy to use and cost effective to you. In fact, you won't be charged for the report at all. Instead, Zumper will charge the tenant $30 to be screened. If you don't feel comfortable charging your tenants, there is an option that allows you to pay instead. The application process is swift, allowing your tenant to fill out the entire application using a web browser or mobile device. You can then request a report by inputting a dedicated apply link to your account or entering the tenant's email address. As soon as the tenant is finished with the application, you'll be notified. Zumper will run a credit check and criminal check. They will also check for any past evictions.
Screening tenants is vitally important and should be done for each and every applicant. It'll save you a lot of stress and give you much-needed peace of mind. If you're embarking on a fix and hold adventure and need financial assistance, please contact us today.