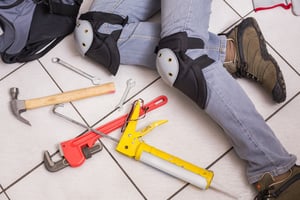 Investors who are new to the very lucrative "fix and flip" market can make financial mistakes when they make renovations to an older property. It is better to learn which renovations are better left as they are by reading this article, than by graduating from the school of hard knocks.
The basic rule to guide investors is: Will the renovation more than pay for itself?
If not, do not do it. That point is important. Will it more than pay for itself? If it only pays for itself what has the investor gained? Yes, the property may sell a little more quickly than another one, but the question to ask is, "Will all the time, effort, and expense be worth a potentially quicker sale?"
Higher profit at closing is always better than lower profit. What, therefore, are the common renovations that do not deliver a good return?
A Beautiful New Bathroom
It is easy to look at a bathroom, especially in an older or smaller home, and decide that it is an obvious place to renovate. But history says that most bathroom renovations only pay back about 50% of the cost. That is, almost literally, money down the drain. The reasons this renovation is worth leaving include:
Most people spend little time in the bathroom. Mornings are busy and evenings are for relaxing in front of the television, enjoying the company of friends, or sitting outside and enjoying the view. In a big, beautiful, modern home, bathrooms are advertised as "a personal refuge" or "an oasis of pleasure." But in millions of homes, bathrooms are not that and never will be.
Bathrooms are functional. Families with children, or homeowners who have a heavy job, see a bath as almost required. Many older homes have a bath, and many new investors rip it out and replace it with an attractive shower. That, on its own, is a deal-breaker for many would-be buyers.
Bathroom renovations can be expensive. Most bathrooms are small, so the cost of renovation per square foot is often high. Throw in high quality tile or heated floors and the cost goes higher.
A Chef's Kitchen
Television shows emphasize how wonderful a chef's kitchen is. The latest high-end appliances, a wine cooler that would make every sommelier proud, expensive worktops, auto-touch faucets all sound and look good, but will they deliver a good return on the investment?
For most families, kitchens need to be attractive enough, plus safe and functional, not a gourmet's delight. The view from the kitchen sink or still being part of the family meal or party with friends is more important than working in isolation in a prestigious kitchen. Buyers tend to look for these before they are persuaded to spend more money for something else.
A New Room
Adding an extra bedroom or a home office sounds good, but there is a big market for homes without those things. Adding rooms demands permits, code inspections, extra wiring, possibly extra plumbing, an addition to the HVAC (which may also demand a new air handler) possibly a roof extension, and, definitely, new flooring. That extra room may not deliver a high enough return.
Buying to fix and flip is great business when done sensibly. To discuss your loan, please click here to contact us.