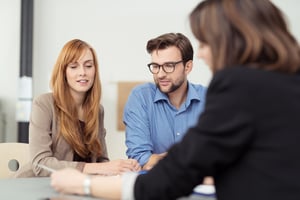 There are good tenants--and then there are bad tenants. Even with background checks and credit checks, applications and interviews, sometimes these tenants slip through the cracks. Here are a few of the worst types of problem tenants and some tips on how you can spot them before it's too late.
The High Maintenance Tenant
The high-maintenance tenant needs maintenance, and they need it now. Some things aren't urgent, but this tenant doesn't understand that. They expect you to fix it yourself, today. If you hear them complaining during their showing, consider it as a potential red flag, whether it's about the next-door neighbors or the house itself. You'll know whether they sweat the small stuff.
The Criminal
The likelihood of finding a meth lab in the house's basement is pretty low, but the likelihood of your tenant using--or even growing--marijuana in the house isn't. If you can't smell it on them, keep an ear out for questions about the smoke alarms.
The Late Payer
The first time, you think it's a fluke, or maybe they just had something unexpected come up. But then it becomes a habit. The good news is that a lot of these tenants can be easy to spot. Even if their credit check comes back clean, you might find that before they become the Late Payer, they're the Negotiator. If they don't like the price that's already set, they probably can't comfortably afford it.
The Bad Pet Owner
Spot is home alone all day, and 8 hours is an awful long time to go without peeing. Spot digs at the carpet, but his owner isn't paying attention. Spot's nails are getting long for the hardwood floors, but his owner doesn't have the patience to clip them. This tenant can be hard to catch, so try to make meeting the dog part of your process.
The Partier
First, there's the noise complaint that gets the cops called to the house. Then there's the damage left behind by the tenant's friends. And even if none of that happens, no one wants their house constantly filled with strangers. There aren't a lot of warning signs for this tenant but be wary of groups of college students or anyone who decides to bring friends along to the showing.
The Ghost
This tenant is the one who disappears into thin air. Broken lease or not, they leave without a goodbye and without any notice, leaving you on a time crunch to find someone new. The Ghost might have a track record of short living arrangements. They may also want to move in as quickly as possible--because they left the last place in a hurry.
These certainly aren't all the things that can make someone a bad tenant, but these particular types are ones you may find yourself picking up on regularly. Some may say that a bad tenant here and there is just part of real estate, but that doesn't mean there aren't ways to weed them out before it's too late. Feel free to contact us for more information.