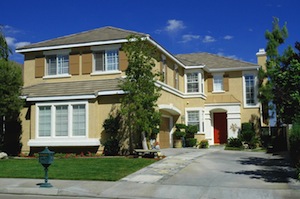 For real estate investors, pre-foreclosure or short sale listings are a potential gold mine. The owners of these homes are often in serious default and they desperately need to sell fast. Homes that fit this category are plentiful and a savvy investor can score some incredible deals. Here are some tips for investors on how to find and navigate a short sale.
MLS Listings
The most obvious way to find short sale properties is through real estate websites. Do an online search for the area that you're interested in and browse through the listings. Although the term "short sale" is most common, "pre-foreclosure" and "subject to bank approval" may also be found in the description. Additionally, contact local real estate agents to inquire about short sale listings. Some agents keep a list of individuals that are interested in short sale properties for future reference.
Courthouse Filings
Information about short sales is also available from the county clerk's office because they are a matter of public record. The foreclosure process starts when the lender files a foreclosure notice of default with the court. In most counties, records are available online, but that's not always the case, sometimes you've got to go in person. Additionally, you can call the county clerk's office in the county that you're interested in and ask them to pull the records, which they will do for a fee.
Get Your Money Together
One of the fastest and easiest ways to get cash for a short sale is to deal with a hard money lender. This is a particularly good idea if you're an experienced investor, but you're not necessarily a candidate for a traditional loan. If you've got a proven track record, a solid plan for the property, and know how you're going to repay the loan, put it in writing. Unlike other lenders, hard money lenders are private individuals and they're more interested in what you can do than what your credit score looks like.
Mortgage Lender Approval
The homeowner's mortgage lender is going to have to approve a short sale because the home is being sold for less than what's owed on it. This happens when the mortgage is higher than the home value, when the buyer cannot make the payments, or if they can't pay off the loan and have to leave the property. Approval happens in most cases because it mitigates the expenses and time involved with pursuing a foreclosure.
Estimating Repairs
In a short sale situation, it's very likely that you'll need to do some serious repairs to the home. It's not uncommon to have to repair or replace the roof and windows. It's also very likely that you'll have to do some work on the plumbing, electrical, heating, and air conditioning systems. It is extremely important that you get an inspection so you know exactly what you're getting into. All too often, investors underestimate how much it's going to cost to do repairs and they end up running short. Plan to spend more than you expect for everything just to be on the safe side.
As a real estate investor, you can realize a tidy profit when buying short sale homes, if you keep your head on straight. If you think you've got what it takes, but you need some creative financing, contact us. Our expert staff will be happy to help match you with the best hard money loan so you can take your plans from drawing board to reality.