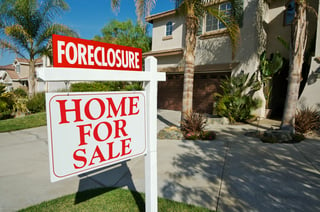 Things have come a long way since the housing bubble crash of 2008 and the years following, when around 80% of homes on the market were foreclosures. It was a golden time for house flipping. That's mostly not the case now, so home flipping definitely has some challenges. Those challenges increase in areas like Southern California, where home prices are higher than the average in most parts of the country.
California Fix and Flip Challenge #1: Finding Properties
The first challenge facing fix and flippers in 2016 is locating a property they can buy, rehab, and sell for a significant profit. As noted previously, the inventory of foreclosed properties is not as high as it once was. But there are other options. Distressed properties are those in some stage of foreclosure, such as default. These homes can be purchased on the open market. Contacts are another way of finding properties, and these can range from agents to people you know in the neighborhood, even contractors you've worked with. All of them come into contact with other people, some of whom move into your industry, so there's bound to be some information shared. Don't forget to study the local real estate market. You need to be intimately familiar with property values in the area where you are looking to buy, otherwise how will you know if a given price is far enough below the prevailing market price to net the profit you need?
California Fix and Flip Challenge #2: Financing
Unless you buy at an auction you are going to have to come up with around 20% of the cost of the property out of your own pocket. Most hard/private lenders won't lend more than 80% of the price to you as an investor or flipper. After you've successfully turned a few properties you'll want to find a hard money/private investor to work with. They'll want to see a proven track record, which means that you've flipped five to ten properties in the last few years. But a good hard money lender is a strong asset to have on your team.
California Fix and Flip Challenge #3: Know What Repairs to Make
Another challenge is knowing what repairs to make to ensure a quick sale on the house. There may be a laundry list of items, but certain things are more likely to get buyers interested.

Kitchens and Bathrooms: Redo them. These are areas that potential buyers really care about.
Flooring: Mostly go with laminate flooring. It's less expensive than hardwood and more resistant to scratches.
Paint: Paint all rooms. Use neutral colors.
If the roof needs to be replaced do it. But be sure to know this and factor in the cost before you buy.
All of this may make it sound like there's no way to successfully flip properties in 2016. But don't despair: fix and flip is still a good way to make money if you're willing to recognize the risks and put in the work. Contact Trust Deed Capital to discuss financing your investment properties.